Meet our Pastor
Ed Skorertz 77 years old (far right) Pastor of the Summerville SDA Church. Ed is the youngest of six brothers in this pic. Four of these men are ordained ministers.
Dr. Edward Skoretz, began his pastoral responsibilities in the Summerville Church in August of 1994.
Edward Skoretz was born in Canora, Saskatchewan, Canada.  He attended public school in Buchanan, Saskatchewan, transferred to Canadian Union College Academy in Alberta, Canada for grades eleven and twelve, and graduated in 1958.
After completing his freshman and sophomore years at Canadian Union College, he transferred to Andrews University in Berrien Springs, Michigan.  At Andrews University, Edward received a Bachelor's of Arts Degree in 1962, a Masters of Arts Degree in Systematic Theology in 1963, a Masters of Divinity Degree in 1968 and a Doctor of Ministry in 1977. 
Edward has pastored and carried Church responsibilities in Ontario, Canada; Indiana, Alabama and Mississippi.  He also served as Chairman of the Applied Theology Department at Middle East College in Beirut, Lebanon. 
His wife Anita, the former Anita Elaine Turner of Athens, Texas, is a Retired Registered Nurse last practicing at Cardiac Rehabilitation in Rome and Cartersville, Georgia.
They have two grown children, Michelle and Philip.  Michelle is a nurse and is married to Darrell Burk.  They live in Missouri with their two children.  Philip is a medical doctor and resides at Loma Linda, California, with his wife, Kimberlee.
Edward enjoys snow and water skiing, hiking, rock repelling, horseback riding, and running.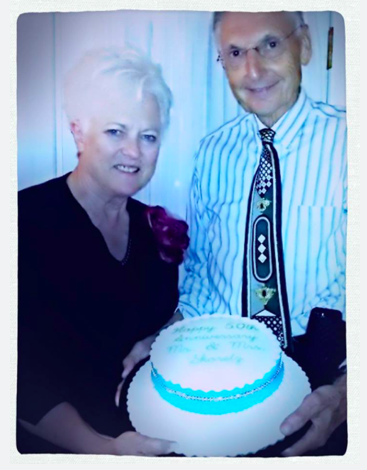 In 2017 Pastor and Mrs. Ed Skoretz celebrated their 50th Wedding Anniversary.                                        Photo by Betty Brown.
About Seventh-day Adventists
The Seventh-day Adventist Church is a mainstream Protestant church with approximately 19 million members worldwide, including more than one million members in North America. The Seventh-day Adventist Church seeks to enhance quality of life for people everywhere and to let people know that Jesus is coming again soon.
Adventists believe a Trinity of three persons—the Father, the Son, and the Holy Spirit—make up one God. They made salvation possible when Jesus, the Son, came to earth as a baby in Bethlehem and lived a sinless life in accordance with the Father's will. When Jesus was crucified for the sins of the people of the world and arose from the dead on the third day, victory was won for everyone.
When He returned to heaven following the resurrection, Jesus left the Holy Spirit to serve as our Comforter and Counselor. He promised to return to earth a second time to complete His plan of salvation and take His people to heaven. Adventists are among the believers who look forward to that day.
Adventists believe that God is concerned with the quality of human life, and that everything—the way we live, eat, speak, think, treat each other, and care for the world around us—is part of His plan. Our families, our children, our jobs, our talents, our money, and our time are all important to Him.