Sabbath School Classes:
-every Saturday Morning at 10:00 AM.  
The Adult Class is held in the Sanctuary with different teachers leading out each Sabbath morning.  We are blessed to have several church members who enjoy leading out in our adult class which provides a rich and diverse experience as we discuss and learn together.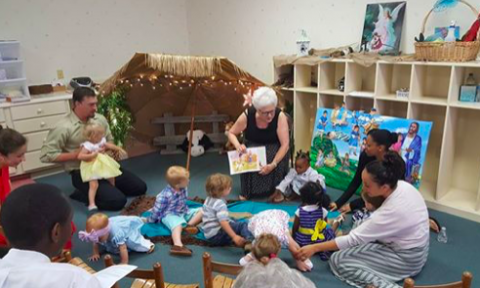 The Beginners Class is a wonderful experience for babies through four years old. The songs, activities, visual aids and hands on devices are a delight to even the smallest of children.  Children quickly develop an understanding of Jesus and his love in this class. Mother's are invited to attend with their small children and form relationships with other mothers. 
Kindergarten Class  This vibrant enthusiastic class is a great experience for young learners 4 through 8 years old. Learn songs that can be carried in your child's heart for a life time.  Memory Verses, Mission Stories, Bible Stories and Crafts are also part of the Kindergarten learning experience.
Primary Class This class usually is for students 8 through 12 years of age.  Students study and discuss Bible Stories, God revealed in Nature and Mission Reports.  Children in this class use their skills of reading and writing to learn and serve others. Children in this class will have opportunities to do crafts, outings and service related activities. 
Juniors  ... under construction.  Check back soon!